Planned Giving

Helping To Shape Macalester's Future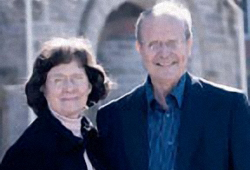 Jack and Marty Rossmann are Iowa natives who moved to St. Paul in 1964 when Jack was hired by Macalester on a two-year contract. Forty-three years later, the Rossmanns still live across the street from the campus that has figured prominently in their lives during the intervening years.
As a professor of psychology, who also served as provost of the college, Jack has enjoyed a successful and fulfilling career working with Mac students whom he describes as "bright, interesting and motivated individuals who will certainly make the world a better place." Marty's passion for education led to her distinguished career as a professor at the University of Minnesota College of Education and Human Development, where she focused on developing courses and programs for parent educators. The Rossmanns' professional lives have been enhanced by the joys and challenges of raising two accomplished children-both Macalester grads-Charles '86 and Sarah '88.
Updating their will was a critical part of their financial planning as the Rossmanns approached retirement and made plans for themselves and their family. Given their active involvement in the community, it was also a natural time to consider making charitable bequests to the organizations that have been most important to them over the years.
"It was an easy decision to include Macalester in our will," notes Marty. "Education is one of our top priorities. Our lives-and those of our children-have been intertwined with Macalester in many different ways over the years." Jack adds, "Macalester is a place worth putting your dollars. You don't have to worry for a minute about having your resources well-spent. A gift to Mac is an investment in students that will pay back in so many ways and have a lasting impact on communities around the world."
Macalester is deeply grateful for the many ways Jack and Marty Rossmann have shared their lives, talents and resources to help students. They are truly wonderful neighbors!