Cecil Ramnaraine '55 P'80: Giving With Gratitude and Joy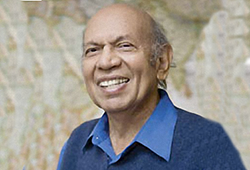 The desire to learn has been a powerful force in Cecil Ramnaraine's life-for just about as long as he can remember. The eldest of 10 children, Cecil grew up in British Guiana near a sugar estate where his father worked. As a young boy, he was fond of sneaking into the estate's library to read books and magazines. And as soon as he was old enough, Cecil attended a Presbyterian mission school that nurtured his dream of attending college in the United States.
With $500 in his pocket and a cardboard suitcase, Cecil arrived at Macalester in the fall of 1952. "It was frightening to be far away from my family," Cecil remembers, "but my classmates and teachers were so kind and friendly that I immediately felt at home." He graduated in three years and began teaching high school science and social studies in Minnesota-a career in education that spanned 40 years.
To improve his school's social studies courses, Cecil took a sabbatical leave from teaching in 1986 and wrote a peace and nonviolence curriculum. The course explores the great ideas and cultural diversity of the world as exemplified in the lives of 12 world peacemakers. Student interest in this subject has continued to grow over the years, and even though he officially retired from the classroom in 1995, Cecil continues to teach his class in schools around the Twin Cities, including Macalester's student-run experimental college.
Cecil is committed to helping others have the same kinds of educational opportunities at Macalester that made such a difference in his life. Recently he set up a charitable gift annuity with the college as a way of providing support to future generations of students. "My research taught me that people who are peaceful in mind and spirit live openly and generously," he says. "I made my gift to Macalester not out of obligation, but with gratitude and joy."