Planned Giving

Nancy Slaughter '58 - Making an Impact on the Future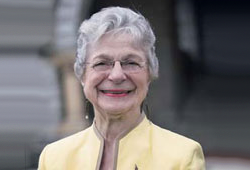 Nancy Slaughter '58 came to Macalester as a sophomore transfer student in the fall of 1955-and she's had an impact on the life of the college ever since. Over the years, Nancy has served Macalester as a Trustee, a member of the Alumni Board, a staff member, an Annual Fund volunteer, a reunion organizer, and a participant on countless campus committees. Most recently, she chaired the class of 1958's successful fiftieth reunion. But her work has also extended well beyond Grand and Snelling: Since graduating, Nancy has served on nonprofit boards throughout the Twin Cities and across the state. Her work has touched virtually every sector of Minnesota's nonprofit community.
Nancy attributes her passion for volunteerism to lessons she learned both at home and at Macalester. "My father was involved in community activities his entire life. That same spirit of activism was pervasive during my days as a student at Mac." Nancy especially appreciates that service to society remains an integral part of a Macalester education. "When I talk with current students, their commitment to making a positive difference in the world comes through loud and clear!"
As part of the class of 1958's fiftieth reunion celebration, Nancy revised her estate plan which had long included a provision for Macalester. She considered different ways to balance bequests to family, friends, and the nonprofit organizations that have had a profound effect on her life. "I wanted to structure my bequests as percentages rather than specific amounts because I know my estate will fluctuate over time." Nancy's attorney then recommended that her charitable bequests be funded with tax-deferred assets, including her retirement accounts. This tax-efficient approach helped Nancy to maximize the gifts that she can make to individuals and to charity.
According to Nancy, "This was an ideal way to make my fiftieth reunion gift. It's very satisfying to know that I can have an impact on Macalester for generations to come."