Planned Giving

Faculty Givers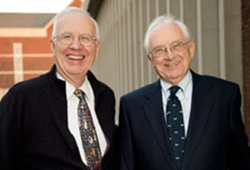 Truman Schwartz and Wayne Wolsey each spent 40 years teaching chemistry at Macalester. Given their lifetime of service, some people might suggest they've done enough for the college.
But Schwartz and Wolsey disagree. Which is why they've pooled their resources to establish the Schwartz-Wolsey Endowed Lectureship for their department, effective after their deaths. Their lectureship eventually will be funded by two planned gifts: part of the proceeds of a charitable remainder trust from Schwartz and a portion of Wolsey's retirement account.
The emeritus professors were influenced by similar programs at other institutions. Discussions with chemistry colleagues helped identify what would most benefit the department.
"We don't want to duplicate what's here, but rather provide some added value to an already high-value enterprise," says Schwartz. Wolsey reminisced about how helpful a late 1980s visiting chemistry lecturer from Cal Teach had been-teaching classes, speaking on a panel, and offering a public lecture. "That's the model I have in mind for our lectureship," he says. "Someone who will be here for a few days, a real asset to the faculty and students."
The gift from Wolsey and Schwartz demonstrates that donors from a variety of financial backgrounds can make a lasting impact on Macalester. "I'm not a wealthy guy," says Schwartz. "Most of my money comes from my Macalester salary and my wife's teaching salary. But we believe that it's important to give back, and to support institutions we feel strongly about. Macalester is one of those."
Says Wolsey, "Macalester has been very good to me. It has been a great environment in which to work. Part of why I want to contribute is in recognition of all the college has done for me."