Planned Giving

Thinking Outside the Gift Box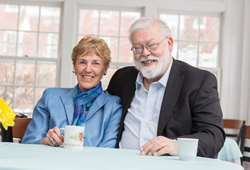 Thanks to their families, Bud Ogle '64 and Donna Sederburg Ogle '64 were already deep believers in access, opportunity, and education when they arrived at Macalester. Bud was awarded a scholarship from Macalester, but his father offered to pay for his first year of tuition if he declined it-with the condition that the scholarship would go instead to a student who needed it more. Bud enrolled and was later joined by his high school sweetheart (and debate partner), Donna.
Bud and Donna quickly learned how eye-opening their college years would be as they studied with professors like J. Huntley Dupre and Yahya Armajani and learned about other cultures and places through the Model United Nations, Summer Work Abroad Project (SWAP) and Ambassadors for Friendship. "I was so impressed by how the world opened up to me," says Donna. "Early on, that sense of international social justice became central to our education. Macalester really stimulated our thinking about our place in the world."
Those ideas shaped their vocations and set the foundation for the rest of their lives. Bud went on to earn a master of divinity degree and a PhD in diplomatic history and became an ordained Presbyterian minister. Donna, focused on literacy, language, and curriculum development, earned a doctorate in education. In her career as a scholar and professor, she found Mac connections in places from Kuwait to Romania. Through his work in campus ministry at Northwestern University, Bud brought students into an underserved Chicago neighborhood to better understand and address urban poverty.
Then, more than 30 years ago, Bud and Donna moved into that neighborhood, started an after-school program for children and an emergency shelter, and bought and rehabilitated a long-neglected hotel to help combat homelessness. Their work around Chicago formed the foundation for Good News Partners, which has since transformed 25 buildings into thriving communities with low-cost housing and resources.
This year, Bud and Donna, longtime Annual Fund donors, wanted to make a special gift in honor of their upcoming 50-Year Reunion and what Macalester has meant for their lives. "We set a goal for ourselves for what we'd feel proud of giving," Donna says. That meant a blended gift split among a charitable gift annuity (CGA), an outright gift to the Annual Fund, and an amount designated in their will. For the couple, Bud explains, tying a CGA into their class gift made sense: "We were aware of the potential of annuities, but annuities weren't something our friends were talking about. A CGA has positive benefits all the way around."
The Ogles are both mostly retired now-Bud continues to serve as Good News Partners' president emeritus-but they aren't done thinking about how to effect change in the world. "I want to continue to encourage and invite and challenge our peers: Just because we're in retirement doesn't mean that our money is retired," Bud says. "We still have a lot to offer, and how we use our money can make a big difference."