Planned Giving

Giving More Chances: Two Alumni Support Mac Now and in the Future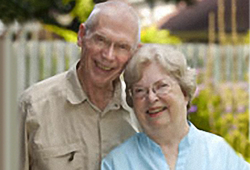 Though they both grew up close to campus, Dennis Ryan '61 and Sharon Bouley Ryan '61 didn't set their sights on Macalester from an early age. Sharon didn't even consider attending college until she was in ninth grade, and Dennis was the first in a large family to go on to more schooling.
"But Macalester kept calling," Sharon says, and both of them eventually received crucial financial aid. "We would not have been able to go to college had it not been for scholarships."
On their first day at Macalester, Dennis saw Sharon getting off her bus, and they met later that day in Advanced English. The two started exchanging letters via campus mail, and by winter vacation they were going steady. They married in 1960. Both pursued satisfying careers: Sharon as a bacteriologist and Dennis as a pediatric ophthalmologist.
He finished his residency in 1974, and the Ryans made their first Annual Fund gift the next year. They've given every year since then. Recently, they chose to support Macalester through a direct transfer IRA gift to the O.T. Walter Scholarship. The Ryans also documented a planned gift that will create an endowed scholarship for students who choose to study healing sciences.
"We always intended to give back to Macalester because someone helped us," Sharon says. "We always wanted to do something for the college with our estate. This was the impetus to sit down and do it."