Planned Giving

Supporting Summer Research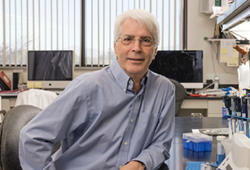 Raymond Runyan '72, professor of cellular and molecular medicine at the University of Arizona Cancer Center, claims that he "majored in soccer" at Macalester, but given his credentials it's probably not exactly true.
His cancer research focuses on the cellular process of epithelial-mesenchymal cell transition (EMT), and explores links to cancer metastasis. The former biology major credits Macalester with providing the study skills, writing skills and "flexible" mindset that has been important to his career.
Summer research opportunities supported by Macalester were formative experiences. As a sophomore, Ray worked at the Osborn Marine Laboratories of the New York Aquarium. In his junior year, he studied abroad and worked a summer at the Menai Bridge Marine Labs at the University College of North Wales.
Twelve years ago, he opened his own lab to regular summer interns from Macalester. "Mac students are consistently really good," he said. "You explain something to them once, and they go off without hesitation." His students have gained valuable research experience and several have even received authorship on scientific papers.
When planning his will, he thought of Macalester. "My brother and I both went to Macalester. My wife didn't, but wishes she had," he said. "We discovered that there wasn't consistent support for summer research at Mac. In my own career, those experiences have been so useful. Our gift will support that for future students."