Planned Giving

Celebrating Macalester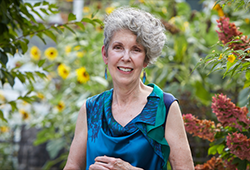 For those of you approaching your 50th Reunion (or any milestone Reunion), Anne Silvers Lee '69 has some advice: "Just GO already!" she exclaims. Anne, who celebrated her 50th Reunion in June 2019, had never been to Reunion, and didn't know what to expect. "I had a fabulous time," she says. "The lovely, big surprise for me was that while it was great to catch up with friends I hadn't seen for so long, I really enjoyed all the great conversations I had with other people. We all had Macalester in common."
In honor of her 50th Reunion, Anne participated in her class gift, making a significant planned gift designated for scholarships. A French major, Anne says she was only able to attend Macalester because she got a scholarship. "I feel a sense of urgency now to 'pay it forward,'" she says, "and to help others attend college, preferably without a whopping big loan."
Anne says that while Macalester was a wonderful school 50 years ago, she thinks it's even better now. She's thrilled that the college has an even stronger international focus and new programs like entrepreneurship. "I want to do my part to help the school that gave me my push into the big world," she says, "and that includes a planned gift for the time when I am no longer here to give annual contributions."
Throughout her long career as a librarian, Anne has stayed connected to Mac, making visits to campus when both her goddaughter and nephew graduated. She says that volunteering on her Class of 1969 Reunion planning committee helped her start reflecting on her college days, including experiences in and out of the classroom. Her freshman-year advisor, Jim Holly, the library director, greatly influenced her own career and managerial style. She drove to Washington with a group of Mac students and marched on the Pentagon to protest the Vietnam War, only telling her parents after she was home. And the assistant chaplain, Reverend Al Currier, "helped all of us try to figure out what in the world to do about this awful war that was going on."
Macalester, she says, quickly opened up a wider world to her. "Everyone, but women especially," she says, "must take responsibility for sustaining organizations that have been meaningful in their lives."