Planned Giving

Making a Positive Impact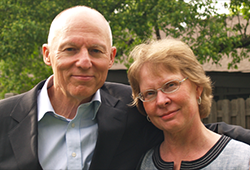 As a Class of 1971 Reunion planning committee member, Steve Euller has been making calls to former classmates, inviting them to take part in their 50th Reunion next June, and asking them to consider contributing to the Class Gift. He and his wife, Nancy Roehr, are doing both.
"When you meet Macalester people at Reunion or anywhere, they always have an interesting story," says Steve. "They are curious, they are still learning, and they are value-driven people who have done admirable things no matter what direction they went in. Suddenly you've got an old friend because you've got so much in common."
The couple made a very generous planned gift as well as several outright gifts to The Macalester Moment campaign, all of which will be included in the 1971 Class Gift. "Macalester brings together students of many different backgrounds and teaches them to work together and solve problems," says Steve. "It's the best place to put our money because it's the best chance for making a positive impact on the world."
Nancy, who calls herself "a Macalester in-law," says that Macalester is consistent with the values they care about. "We're investing in the future," she says, "so Macalester students can go out and make change happen in ways we can't even envision yet."
For more information on making a planned gift, contact Theresa Gienapp at 651-696-6087 or visit macalester.edu/plannedgiving.