Planned Giving

Making a Different Sort of Gift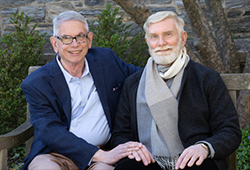 "Being supportive of institutions that share our values is important to us," says Jon Walton '69. "When I first entered Macalester, there were no LGBTQ groups," he says. "But Macalester has traveled a long journey forward and has become the place of hospitality and welcome that I had hoped it would. That is not going to continue without both financial support and ongoing support. It also keeps alive the spirit of Macalester that has led the way to welcome LGBTQ people."
After retiring from a 17-year career as pastor of the First Presbyterian Church in the City of New York, Jon and his husband, Jay Deputy, now reside in Delaware. However, they retain strong ties to Macalester through philanthropy and service.
"Deuteronomy 6:11 speaks of 'drinking from wells that we did not dig,'" says Jon. "I love that as an image of philanthropy." Together the couple has made a generous planned gift to the college, as well as scholarship support, and annual gifts to the Macalester Fund, and
Jon concludes 12 years as a member of the Board of Trustees in May. "A planned gift is a different sort of gift," he says. "It's an answer to the question, 'What type of world do we hope it will be in the future?'"