Planned Giving

Mardene '53 and Dick Eichhorn '51 P'77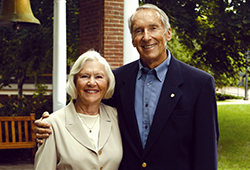 An Open Invitation to Support Macalester
In December of 2011, Macalester marked the successful completion of Step Forward: The Campaign for Macalester. Step Forward was an ambitious fundraising program to bring Macalester's financial resources in line with its reputation as one of the top liberal arts colleges in the country. By reaching the goals outlined in this campaign, we strengthened Macalester's traditional spheres of excellence-academics, international and civic engagement, a talented faculty, and extraordinary financial aid opportunities-while also providing the necessary resources to help the college face future challenges with boldness and creativity.
Gifts of future support-through provisions in wills, trusts, retirement accounts, insurance policies and life-income arrangements-played an important role in the campaign's success. Over the years, the college's endowment has been built on the generosity of donors who made planned (or deferred) gifts. Every day, a new generation of donors must step forward to secure the future of Macalester by making planned gifts at all levels.
Along with Carol Hayden '56, I was pleased to serve as a liaison for planned giving on the campaign steering committee. As part of our commitment to Step Forward, my husband, Dick '51, and I updated our estate plan to include a new provision for Macalester. We've always appreciated our Macalester educations and the positive effect the college has had on our lives. The decision to give something back was important to us. It warms my heart that our bequest will keep benefiting the college long after we're gone.
Planned giving is an opportunity in which all of us who care about the college's future can-and must-participate. All of us can make a lasting impact by planning a gift today that will strengthen Macalester tomorrow. I invite you to step forward for Macalester!