Planned Giving

Endowing a Scholarship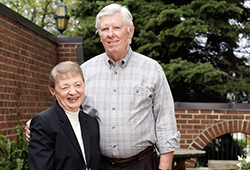 The Ronnow family is sharing its good fortune to help students attend Macalester.
Kris Ronnow '59 and Connie Youngberg Ronnow '59 were graduates of the very large St. Paul Central High School who longed for a small-college experience. Fortunately, there was an excellent one right in their hometown-Macalester College, which was affordable if they continued to live at home.
Mac opened up the world for these first-generation college students, who went on to dynamic careers in ministry/community organizing and nursing in the Chicago area. Now they are giving back to the college that launched their dreams. They and their three children-two of whom also attended Macalester-have established the Ronnow Family Endowed Scholarship Fund, aimed at first-generation Twin Cities kids like themselves.
Says Connie, "We didn't realize the difference Mac made in our lives until we began our careers and saw that the values of diversity and globalism that are inculcated at Mac had become a part of us."
Adds Kris, a recent Alumni Board member now chairing the gift committee for his class's 50-year reunion, "We continue to value very strongly our Mac experience and the education we received. We've been blessed in so many ways. To share that good fortune with generations to come just makes sense."
Gifts like the Ronnows' scholarship fund can be structured as part of an estate plan rather than as money given to the college today.