Scholarships: Bequest Will Benefit Minnesota Students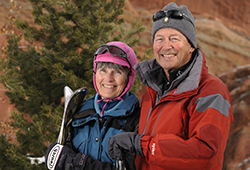 A life in higher education wasn't something Darwyn Linder '61 had in mind while growing up in Minnesota. But his Macalester experience both inspired and prepared him for graduate school and beyond. Today, Darwyn and his wife, Marie (above), both of whom benefitted from financial aid, believe strongly in the importance of access to high-quality higher education. "Our country needs an educated population to compete in the world economic market and to deal with our own public affairs," he says.
Darwyn and Marie met while both were earning PhDs in psychology at the University of Minnesota. He taught for seven years at Duke University, then in 1972 became professor of psychology at Arizona State University and served there 33 years. Marie established a clinical practice working with children. A provision in their estate plan will establish an endowed fund to benefit Minnesota students who need financial assistance to attend Macalester. By documenting their gift, they contributed to the Class of 1961 50-year Reunion gift. "We're pleased that we can dedicate our resources to providing access for students not able to meet the financial burden of college," he says.