Thinking Outside the Gift Box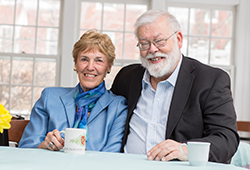 Alumni Couple Uses Blended Gift to Celebrate 50th Reunion
Last year, Bud Ogle '64 and Donna Sederburg Ogle '64, longtime Annual Fund donors, wanted to make a special gift in honor of their upcoming 50th Reunion and what Macalester College has meant for their lives.
"We set a goal for ourselves for what we'd feel proud of giving," Donna says.
That meant a blended gift split among a charitable gift annuity, an outright gift to the Annual Fund, and an amount designated in their will. For the couple, Bud explains, tying a CGA into their class gift made sense.
"We were aware of the potential of annuities, but annuities weren't something our friends were talking about. A CGA has positive benefits all the way around."
Putting Retirement Money to Work
The Ogles are both mostly retired now-but they aren't done thinking about how to effect change in the world.
"I want to continue to encourage and invite and challenge our peers: Just because we're in retirement doesn't mean that our money is retired," Bud says.
"We still have a lot to offer, and how we use our money can make a big difference."